The Kinu M47 Simplicity is Kinu's most simple, streamlined coffee grinder yet, and it's perfect for blended brews, espresso, and your favorite flavors. This might be one of the most simple grinders on the market, but the M47 Simplicity doesn't compromise on features. No, it takes coffee very seriously!
Crafted to perfection, with its steel body and bearing mounts, the Simplicity looks great on any kitchen countertop, whether in the home or office. Like all Kinu products, it's manufactured from the best materials and components, and the included warranty provides you with peace of mind.
Reduced Weight and Cost
With its ABS plastic funnel and grinds catch, the Simplicity is lighter (it weighs just 2.1 lbs!) and cheaper than other grinders on the market. However, its steel burrs and driveshaft make this a powerful machine that you'll be proud to add to your kitchen.
Smooth Grinding
The Simplicity comes with a micro-stepped grind adjustment, capable of 50 steps per rotation of the adjustment dial. There's 0.01 mm of travel between the machine's burrs, which makes it a great solution for espresso grinding. Four bearings allow for smooth grinding, and you'll be more than satisfied with the taste of your cup of coffee every time.
What You Need to Know About the Kinu M47 Simplicity
Both the hopper and the grinds catch hold of around 40-50 grams of coffee.
Steel cylinder on grinder body.
Steel burrs, bearings, grind adjustment, handle arms, internal bearing mounts, and axle.
Micro-stepped grind adjustment, 50 clicks per revolution.
Steel ball bearings for smooth turning.
5-year manufacturer warranty
Case included
The Simplicity comes with a custom-made hardcase. 
Check out the FAQ for more info. 
Technical Specifications
Weight: 965g

Height: 201,5 mm

Body diameter: 50 mm

Beans capacity: 40g

Grinding capacity: 30g

Material: All-metal construction

Burrs: 63HRC – conical steel burr set with Black Fusion treatment
Kinu's specially designed burr is at the heart of the grinder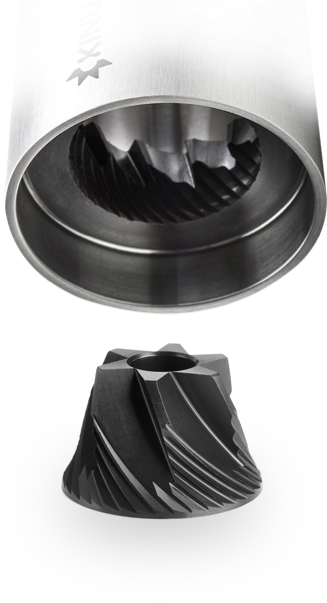 Professional grade conical steel burrs with Black Fusion treatment for fast grinding.

Automatically self-align conical burrs using a Morse cone to attach the burrs to the axle and housing for maintaining grind consistency.

Burr size: Kinu M47 Simplicity & Phoenix - 47mm, and Kinu M68 - 68mm

Conical steel, coated. 31.6 - 49 mm (inner cone), 47 - 68 mm (outer ring)